Embleem 31e World Ports Conference onthuld in Bakoe, Azerbeidzjan
Haven Guangzhou klaar voor 2019
Registreer je op: www.iaphgz2019.com
BAKU, Azerbaijan–(BUSINESS WIRE)– Op 9 mei wordt een tussentijdse conferentie van de wereldhavenconferentie georganiseerd door de International Association of Ports and Harbors (IAPH) in Bakoe, Azerbeidjan. Meer dan 300 havens en havengerelateerde bedrijven en organisaties wereldwijd nemen deel aan de conferentie. Als gastheer voor de World Ports Conference 2019 en als belangrijke buitenlandse handelshaven van China, bood Guangzhou Port Authority een warme uitnodiging aan.
Het organiseren van de World Ports Conference in 2019 is een mijlpaal voor de haven van Guangzhou. Het is een belangrijke stap om de bouw en ontwikkeling van nationale centrale steden en scheepvaarthubs en de vorming van een nieuw patroon van allround opening in China te versnellen. "De ontwikkeling van de haven kan niet los gezien worden van de ontwikkeling van de stad", stelt mevrouw Yuan in een statement. "Het is meer dan een samenwerking met de havensector alleen. De projecten moeten de aanzet geven tot het activeren van handel, logistiek en andere afdelingen om gezamenlijk de havens verder te ontwikkelen." Ze liet daarnaast weten dat tijdens de 31e wereldhavenconferentie in Guangzhou de gastheer het 'Friend Circle'-initiatief voor havens langs de 'Belt and Road' zal lanceren om handelsfacilitering en internationalisering van Chinese normen te verbeteren.
31st World Ports Conference Emblem Launched at Baku, Azerbaijan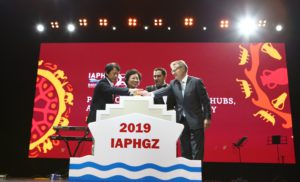 At the closing ceremony of the Conference, Ms. Yuan Yue, the Deputy Director of Guangzhou Port Authority, Mr. Santiago Garcia Milà, President of IAPH, and Dr. Taleh Ziyadov, Director General of Baku International Sea Trade Port CJSC jointly launched the emblem for 2019 China World Ports Conference, symbolizing the official launching for 31st World Port Conference in Guangzhou. (Photo: Business Wire)
BAKU, Azerbaijan–(BUSINESS WIRE)–
Guangzhou Port Ready for 2019
Register at: www.iaphgz2019.com
On May 9th, the mid-term conference of the World Ports Conference was held by International Association of Ports and Harbors (IAPH) in Baku, Azerbaijan. Over 300 ports and port-related companies and organizations worldwide participated in the Conference. As the host for World Ports Conference 2019 and an important foreign trade port of China, Guangzhou Port Authority extended its warm invitation to all guests.
To host World Ports Conference 2019 is a milestone for Guangzhou Port. It is also an important step to accelerate the construction and development of national central cities and shipping hubs and the forming of a new pattern of all-around opening up in China. Ms.Yuan stated that "the development of the port cannot be separated from the city. It is even more than just cooperation with the port sector. Instead, the projects should be the trigger activating trades, logistics, ports and other departments to jointly develop and standardize the ports." She also mentioned that during 31st World Ports Conference in Guangzhou next year the host will launch the 'Friend Circle' Initiative for ports along 'Belt and Road' to promote trade facilitation and internationalization of Chinese standards.
This time Guangzhou Port Authority chose "Collaborate Now, Create Future" as the theme in its exhibition area, where fully demonstrated the port of Guangzhou as an international shipping hub which is always dedicated to improving modern shipping logistics services and building a smart green and safe port, as well as deepening the exchanges and cooperation internationally. Guangzhou Port Authority also signed a sister port cooperation agreement with Baku International Sea Trade Port, who becomes the 42nd sister port of Guangzhou. Thanks to the conferences of IAPH, Guangzhou Port now maintains friendly cooperation with over 100 countries and 400 ports worldwide.
Since the issuance of the "Three-Year Action Plan for the Construction of the Guangzhou International Shipping Center" in 2015, three years of hard work has led to a big leap in port production, the gathering and radiation power has expanded, new breakthroughs have been made in factor gathering, and key projects such as the Nansha International Cruise Terminal have kicked off. The construction will add new momentum to the gateway hub. China (Guangzhou) International Freight single window has become a leading and demonstrative example among its peers in China.
With the launch of the new 3-year Action Plan, the port of Guangzhou will use the port as a fulcrum to strengthen the connectivity with the regions and cities along the "Belt and Road" initiative, and rapidly enhance the internationalization process of Guangzhou Port. By strictly following the "Belt and Road" initiative and grasping the opportunities of the policy of building a powerful country with strong traffic, powerful oceans, as well as the Bay Area construction of Guangdong, Hong Kong, and Macao, multiple measures will be taken together to promote the construction of the Guangzhou International Shipping Center and jointly create a world-class shipping hub.
View source version on businesswire.com: https://www.businesswire.com/news/home/20180502006963/en/
Contacts
Global Raytur (Beijing) Public Communication Co.,Ltd
Shirley
86 13720002197
wangyishan@globalraytur.com

Deze bekendmaking is officieel geldend in de originele brontaal. Vertalingen zijn slechts als leeshulp bedoeld en moeten worden vergeleken met de tekst in de brontaal, die als enige rechtsgeldig is.
Check out our twitter: @NewsNovumpr