Clientron stelt nieuwste Thin Client en afrekenproducten tentoon op Computex Taipei 2016
TAIPEI, Taiwan–(BUSINESS WIRE)— Clientron Corp., een internationaal toonaangevende aanbieder van Thin Client, afrekensystemen en ingebouwde systemen, introduceert zijn nieuwste producten met innovatief ontwerp op Computex 2016, dat van 31 mei tot 4 juni 2016 in Tapei. Clientron onthult daar zijn nieuwe Thin Client IT800, met industriële PC-kwaliteit, en R800 voor algemene Thin Client-applicaties. Tegelijkertijd stelt Clientron zijn zijn gloednieuwe alles-in-een-afrekenterminals uit de serie Bello tentoon. De reeks bevat een ingebouwde NFC-lezer en een dubbel klantenscherm voor groter gebruiksgemak. Op de show hebben bezoekers ook de kans de voordelen van groene technologie, innovatief ontwerp en betrouwbare kwaliteit die Clientron met zijn apparaten levert.
"Clientron biedt een uitgebreide selectie Thin Client and afrekenproducten op Computex 2016," zei Kelly Wu, president en ceo van Clientron. (Foto: Business Wire)
Clientron to Showcase Latest Thin Client and POS Products at Computex Taipei 2016
TAIPEI, Taiwan–(BUSINESS WIRE)– Clientron Corp., a global leading provider of Thin Client, POS and embedded systems, is introducing its latest products with innovative design at Computex 2016, held in Taipei, Taiwan from May 31th to June 4th, 2016. Clientron will unveil its new industry Thin Client IT800 with industrial PC quality and R800 for mainstream Thin Client applications. Meanwhile, Clientron is showcasing the brand new all-in-one POS terminal Bello series, supporting built-in NFC reader and dual customer displays for user experience enhancement. At this show, visitors can view what benefits of green technology, innovative design, and reliable quality Clientron brings for your applications.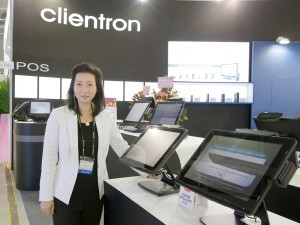 Source: Clientron Corp.
Smart Multimedia Gallery
Check out our twitter: @NewsNovumpr